Available Spring 2002!
www.womeninchaps.com online soon!
Reel Fish proudly announces the new edition to its calendar line - Women in Chaps TM
Many calendars feature the fantasy of $100,000 models that the average guy could never talk to draped over $100,000 bikes that most people could never own. Women in Chaps TM features the reality of the "girl next door" with motorcycles you would see on the street. A new spin on motorcycle calendars that is sure to bring a smile to the face of even the toughest biker, Women in Chaps TM features scenes you may not see everyday, but you could see them on a good day!
Go Behind the Scenes on the some of our Women in Chaps TM shoots.
Get Women in Waders TM Updates
Subscribe to our Mailing List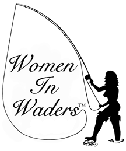 ---
---
Reel Fish
Copyright � 1999,2000,2001. All rights reserved.
All photos, content, and code Copyright � Reel Fish and may not be used without permission.
Revised: Nov 19, 2001