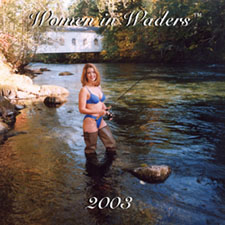 Click here for the APRIL GIVEAWAY!
As Seen In:
Loaded, Maxim, FHM, Unlimited, Gear, TNN Outdoors, Salmon, Trout and Steelheader, Pike and Muskie, Great Lakes Angler, Northwest Fishing Holes, Inside Line, Fishing and Hunting News, Oregon Angler, .Net, AngelWoche, Fisch und Fang, Fisk & Fri, and MORE ...
Do you have your calendar yet? Do your friends? The Women in WadersTM calendar makes a great gift for your buddy, your relative and yourself. Let the 12 beautiful Women in WadersTM take you on a year long trip to some of the best fishing locations. Go to the ocean for perch, to lakes for bass, to trout filled streams, or to rivers full of salmon and steelhead.

...and your buddy never looked this good in waders.

Great gifts for any sportsman!


Guides, Lodges, Resorts -

What could be a better gift for your best clients than a beautiful Women in WadersTM calendar to help them plan next years trips with you? We offer special discounts for guides, lodges, or resorts ordering 10 or more. Contact our sales and marketing department, or our distributor Anglers Book Supply to order.
Get Women in WadersTM Updates
Subscribe to our Mailing List